What if there was a way to make sure everyone could easily access information about your company?
At ONE18MEDIA, we believe that Social Media is one of the most important aspects to reaching your target audience.
Below we have provided some facts that will help you visualize how important it is to grow your social media presence.
Facebook
There are nearly 1.4 billion Facebook users and 45% of all Internet users are
on Facebook.
Facebook generates nearly 4.5 billion likes per day.
Twitter
Twitter has around 284 active users and 88% of those users are on mobile
devices.
Twitter has nearly 500 million tweets per day.
Instagram
Instagram has over 300 million users.
70 million photos and videos are sent daily on Instagram.
Pinterest
There are 70 million users on Pinterest.
88% of all pins on Pinterest result in a sale.
Linkedln
Linkedln has over 347 million active users and is the leading networking site for professionals.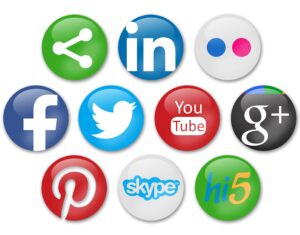 Keeping up to date with all of these different social networking sites can be overwhelming.
We make sure that we work with you to use only the ones that will help to grow and promote your business.
When used properly, social media can help to generate new business daily.