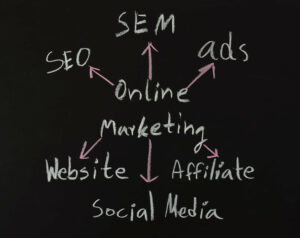 Let's face it– social media has changed the way we do business, and there just isn't going back. Virtually every industry is experiencing the effects of a powerful type of discoverability: the engagement of online users that can interact with you on a more personal level than traditional marketing means. Potential customers have the opportunity to learn more about your company through a lens of your own design. Utilize digital tools that will allow you to manage customer accounts, display your products, and show off your portfolio with ease. Online marketing is the here-and-now– here's why you should get started for yourself if you haven't already.
One Word: Competition
If you're struggling to succeed, take a look at what your competitors are doing. Are they online? Are they active on social media? Are they reaching out to customers, responding to reviews, and posting relevant content? Take a look at the ways in which rival companies have crafted their personalized business strategies and identify what works and doesn't work for them. You'll gain a better understanding of the different tools that online marketing puts at your disposal, and taking the first steps toward establishing your own online presence will be all the more easier. Know what the competition is doing — then do it better.
Back to the Basics of Branding
When you're first starting your company, branding plays a monumental role in establishing a foundation from which your business strategies stem. Creating an identity that resonates with consumers is critical in staying on top of your competition– online makes the challenge all the more easier. By getting online, you'll have the opportunity to increase visibility with SEO, build positive relationships with your audience, and differentiate your presence within your market.
It Won't Blow Your Budget
Online marketing will save you a fortune in your advertising efforts. If you're just starting out, it can be overwhelming think about the costs of office spaces, personnel, and resources. The basic social media sites like Facebook, Twitter, and Instagram are all free. If you're utilizing a platform such as WordPress or Tumblr to create your website, plugins and add-ons you can purchase to improve your site won't break the bank. Check out this article for some free tools you can use to optimize your social media marketing.
As the Internet continues to get better and better, so will the opportunities for effective, cognitive marketing strategies. Social media marketing opens a new door for both small and large businesses, and in this age of technology, it's foolish not to get involved.