Local SEO is exactly what it sounds like: it's the search engine optimization strategies used to be found by customers in your area. Brick-and-mortar businesses and local home service companies, for example, greatly benefit, as localized SEO strategies can bring a whole new set of paying customers in the digital age. 
At ONE18MEDIA, we want your business to thrive and succeed. In fact, if you want to see new customers and better ROI, here are 5 ways you can supercharge your local SEO strategy!
Optimize Your Mobile Site
Mobile sites are an absolute necessity these days — especially when it comes to local SEO. As your customers search on their phones and tablets, they're likely to find you if you have an optimized mobile site that provides the information they need. In order to do so, here are some things to take into consideration
User Experience (UX): Your website visitors need a site that boasts fast load times, offers useful information, and features a clickable, responsive interface.

Visual Appeal: Users want a website that looks sleek and modern, not something that's straight out of 2005. But in designing your mobile site's visuals, it's also important to remove excess clutter, so that your site runs smoothly while also remaining visually appealing.
Optimize Your Google Business Profile
Google Business Profile, formerly known as Google My Business (GMB), is a free hub that helps you manage your local presence across Google's platforms. Its purpose is exactly what it sounds like; it provides a home for all your business's details, photos, services, and all other indexable features.
With Google Business Profile, you should make sure that your business name, address and phone number are consistent on all of your social media pages and on any other websites you have. This way, your business can accurately be indexed by Google and, in turn, prop you up in the local SEO ranks. 
Additionally, make sure that the domain name is also consistent with each other so people can easily find you online!
Ensure NAP Consistency for Effective Local SEO
Short for Name, Address, Phone Number, NAP consistency is one of the most important factors when it comes to local SEO. It's not just about having your name, address, and phone number (NAP) on your website – but also on social media profiles and Google My Business account.
The reason for this is obvious. When Googling your business, potential customers need to determine who you are, if you're in reasonable distance from them, and how they can contact you. If just one of these elements are wrong, customers can easily take their business elsewhere. 
Consistent NAP across all channels will help you rank higher on Google Maps by making it easier for users to find what they're looking for faster than if there were multiple listings with conflicting data points.
Create Localized Content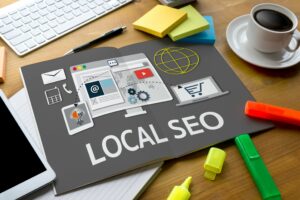 When it comes to local SEO, you should also have a dedicated creator to making localized content. Localized content can come in many different forms, including photos, videos, social content, and blogs.
Tailoring said content to your local surrounding communities will help you rank better on Google and get more traffic from people who are searching for businesses like yours. For example, a New York City-based HVAC company writing blogs about Local Law 97 would be a fantastic idea, as those searching for information on the legislation will have intersecting interests with HVAC professionals. In turn, this can potentially convert someone looking up information about the law into a paying customer in the future.
Collect Customer Reviews
Collecting customer reviews is another great local SEO strategy. For one, it creates great visual optics for potential customers — especially if you have high customer ratings and retention rates. This will also allow for your business to rank higher on search engines, as it demonstrates trustworthiness and authority.
On the other hand, if a business has negative reviews, it's important to respond immediately when something goes wrong. This will show that your company is proactive in its efforts to provide communities with better service.
Supercharging Your Local SEO Strategy with ONE18MEDIA
With years of experience under our collective belts, we here at ONE18MEDIA are experts at local SEO and digital marketing. We've helped businesses generate leads, convert into paying clients, and close sales — all while increasing brand awareness as well.
To learn more about how ONE18MEDIA can help your business with local SEO strategies, please visit our website and get in touch for a FREE marketing audit today!