Reading Time:
9
minutes
In today's digital world, creating and offering free content can be a major asset to any website. Whether your website focuses on personal development, marketing advice or anything in between, an abundance of high-quality eBooks provides content that appeals to visitors and keeps them coming back for more. Not only do eBooks offer engaging reading material for readers, they also provide webmasters with opportunities for increased visibility, making them attractive to the digital marketing industry. Read on to learn why offering free eBook content is essential for your online success!
Overview of eBooks and Its Benefits
eBooks have revolutionized the way we read and consume knowledge. They offer a vast array of advantages over traditional books, including portability, accessibility, and convenience. With eBooks, you can carry your entire library with you wherever you go, and access your favorite titles from your smartphone, tablet, or e-reader. 
Additionally, eBooks often provide free content, making them increasingly popular among avid readers. With their digital format, eBooks are also more environmentally friendly. They can contribute to a reduction in paper usage, and help conserve trees and other natural resources. They also do not require paper, ink, or shipping. 
Moreover, eBooks often come with bonus features such as hyperlinks and multimedia content. Many eBooks also offer free content, making reading more cost-effective for avid readers. Overall, eBooks offer readers a new and innovative way to enjoy books that is both efficient and cost-effective.
Why You Should Offer Free eBook Downloads on Your Website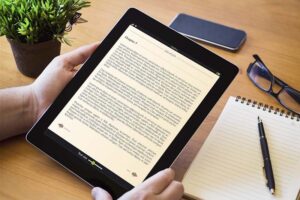 As the popularity of digital content continues to rise, offering free eBook downloads on your website is a smart strategy for attracting and retaining customers. eBooks provide value to your visitors while also showcasing your expertise and offering a glimpse into your brand.
By offering free content, you are building trust with potential customers and providing them with a tangible preview of your offerings. Not only does this increase the chances of conversions, but it also helps establish your brand as a thought leader in your industry. 
Free eBook downloads can also be used as a lead magnet, encouraging visitors to sign up for your email list, giving you the opportunity to nurture those relationships and convert subscribers into paying customers. So, if you haven't yet added free eBook downloads to your website, now is the time to start.
Tips for Creating an Engaging eBook for Your Audience
Creating an engaging eBook for your audience can seem daunting, but it doesn't have to be. The first step is to consider the needs and interests of your target demographic. Once you have identified those, you can begin crafting compelling content that speaks specifically to them. 
Keeping your tone professional and informative is key to building trust with your readers. Additionally, offering free content can help attract and retain an engaged audience. Make sure your eBook is easy to read and visually appealing by incorporating images, infographics, and other visual aids. Moreover, items such as templates, checklists, or case studies, can entice readers to engage with your brand and increase the chances of them becoming loyal followers.
By following these tips, you can create a captivating eBook that will inform and inspire your audience.
Establishing a Lead Magnet and Call to Action in Your Content
To truly make the most of your eBook, you need to ensure that it includes a lead magnet and call to action. A lead magnet is something that you provide your readers for free in exchange for their contact information, such as an email address. This can be anything from a free guide to a discount code. A call to action is a statement that encourages your readers to take action, such as signing up for your newsletter or making a purchase. By including these elements in your eBook, you can grow your email list and turn your readers into paying customers.
How to Use SEO Best Practices When Writing Your eBook 
When it comes to creating an eBook, there's no denying that offering it for free can be a great way to attract readers and grow your online presence. But how do you ensure that your eBook gets noticed? That's where SEO best practices come in. 
By optimizing your content with keywords, headers, images, meta descriptions, and other essential SEO elements, you can help your eBook rank higher in search engine results and make it easier for readers to discover your work. When writing your eBook, keep in mind the keywords and topics that your ideal reader may search for, and incorporate them naturally throughout your content. With a strategic SEO approach to your eBook, you can increase your visibility, grow your audience, and attract new opportunities to share your valuable free content.
Strategies for Promoting Your eBook After Its Launch
Now comes the crucial step of ensuring that your target audience gets access to the valuable information you have to offer. One important strategy to promote your free eBook is by utilizing the power of social media. Share your eBook on platforms like Twitter, LinkedIn, and Facebook, and encourage your followers to share it with their own networks. 
Another effective tactic is to leverage email marketing and send direct invitations to people who have previously shown an interest in your brand or industry. You can also take advantage of promotion websites that specifically cater to free content. 
Another way you can promote your eBook is by breaking it up into more digestible pieces. This can include excerpts, sample chapters, or even full books. By providing this content, you give your readers a taste of what you have to offer, potentially leading to increased sales and interest in your work. It's also important to reach out to book bloggers, review sites, and other online influencers to generate buzz about your eBook. By remaining active and engaged in the world of eBooks, you can increase your exposure and ultimately achieve greater success as an author.
By using these strategies, you can increase your eBook's visibility and reach a wider audience, helping your brand to stand out in a competitive market.
Why You Should Offer Free eBooks on Your Website
In conclusion, creating and launching an eBook is a great way to engage your audience with valuable and original content. Not only does this create an ongoing relationship with readers, but it also provides additional monetization opportunities for your business. Remember to use SEO best practices when writing, establish lead magnets and calls to action in the content, and think of creative strategies for promotion once you've launched your eBook. Allowing free downloads helps attract more visitors to your website as well. 
Creating Free Content with ONE18MEDIA
At ONE18MEDIA, we boast a robust team of digital marketing experts who are ready, willing, and able to take on any task at hand. With nearly a decade of proven success, ONE18MEDIA's services have helped many businesses improve their digital presence AND boost their revenue. 
With copywriters, social media experts, web developers, and strategies, ONE18MEDIA is more than equipped for any digital marketing challenge. We specialize in creating original content, including eBooks, blog posts, whitepapers, and more. Whether you're just getting started with content creation or need help scaling an existing strategy, our team is here to help. To learn more, please visit our website and contact us today for a free consultation!