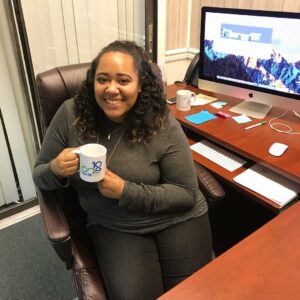 Brianna Beaumont
Hofstra University
Journalism
What is your favorite aspect of digital marketing?
I like working with WordPress. Learning new aspects of WordPress and how to make a great looking site is fun and a good skill to have.
What is the best piece of advice you received from a mentor?
To not be afraid to ask questions. It is better to ask then to complete a task incorrectly.
Why did you decide on pursuing a future in Journalism?
I love writing, creative or factual. I also want to inform people. I want to show people what is going in the world, and with journalism I am able to do that.
Being from North Carolina what do you enjoy most about living on Long Island?
I like the pace. It isn't too fast like the city but there still is a lot more going on than in North Carolina.
What do you enjoy doing in your free time?
I love reading and watching movies. I also love going outdoors; I like going to the beach, hiking, or camping with family and friends.
What experience has ONE18MEDIA given you that you did not have prior to your internship?
I was able to come in and develop skills that I wanted to learn. The work environment there was amazing. The people were nice, and if I wanted to learn something new they would teach it to me.
What is something that you were able to build upon and expand during your internship?
I learned so much on WordPress and Photoshop. I came in not knowing much about either, but now I feel like a pro at Photoshop. There are so many WordPress elements, and my knowledge of those elements grew. Also, I learned how to keep social media updated for their clients, and how to schedule posts.
Describe any other feelings or educational experiences you have had at ONE18MEDIA.
The environment at ONE18MEDIA is so friendly. There are willing to help if you need help with a task. I was able to really strengthen my skills. I really did enjoy learning Photoshop. For the clubs I am a part of, I make flyers and social media posts. However, now being here and by making so many graphics, I now can do a lot more than I used to do before.
—
How do you recharge?
I recharge by listening to music while crafting.
What movie or novel character do you most identify with?
Princess Poppy from Trolls.
When are you the happiest?
I am the happiest when I am surrounded by my friends and family, preferably camping or somewhere outdoors.
Fill in the blank:
If you really knew me, you'd know I'll belt out Disney lyrics at any given moment.
What super power would you like to have?
I would like to have the ability to heal myself and others.
What's the most important lesson you've learned in the last year?
To do what makes you the happiest, and to surround myself with people that strengthen me and encourage me to be the best I can be.