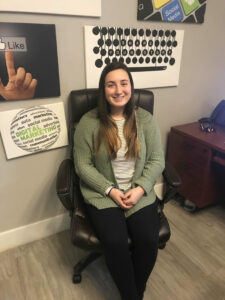 Samantha Guido
Molloy College
Finance Major (Masters: Finance/Marketing)
Fun Fact! – I was born on Valentines Day
What is your favorite aspect of digital marketing?
Creating content for the different schools and businesses. I like being able to help these companies reach their audiences.
What is the best piece of advice you received from a mentor?
The best piece of advice I have received from a mentor is that when someone tells you that you can not accomplish something, prove them wrong. Through hard work, I have the ability to do whatever I want.
What do you enjoy most about living on Long Island?
The beaches and the trails all around to go hiking
What do you enjoy doing in your free time?
Playing rugby and watching Netflix
What experience has ONE18MEDIA given you that you did not have prior to your internship?
Learning how to create content and using photoshop.
How do you recharge?
By taking a long nap
What is something that you were able to build upon and expand during your internship?
This internship really helped me decide if I would add marketing as one of my master's concentrations. Being a finance major, I never got the chance to really take marketing classes. I was always very interested in marketing, and getting the chance to see what it's like to work in this field really helped me make my decision.
What movie or novel character do you most identify with?
Gracie Hart from Ms. Congeniality
When are you the happiest?
When I am with my friends or when I get a good grade back on something I worked really hard on
Fill in the blank: If you really knew me, you'd know_____.
I really want a red jeep
What superpower would you like to have?
Invisibility