One of the most important aspects of digital marketing includes SEO keywords. If you work in the digital marketing field, you've probably been inundated with "SEO this, SEO that" — but how do you successfully leverage them in your content? In this blog, we'll discuss the importance of SEO keywords and how to utilize them to their fullest potential.
Tailor SEO Keywords to Your Audience
One way to effectively utilize SEO keywords in your content is to know exactly what your audience is looking for. For example, if you're a New York City-based HVAC service provider, chances are you're looking to grow your business. In order to grow your business, you've got to tap into what your audience needs — which, in this case, is most likely HVAC service. Thus, terms like "HVAC service," "NYC HVAC," "HVAC problems," and "heat pumps" might be some effective terms to employ.
Places to Use SEO Keywords
The next point to make is that you must employ these SEO keywords in the right places throughout your content. But where do they go?
Title
Of course, if you want your content to rank on Google and other search engines, you've got to throw your SEO keywords in the title. What else would people be searching for if not for your title?! Make sure it's accurate and descriptive. The title should accurately reflect what a visitor will find when they click through from Google results. It should also be as descriptive as possible, so you can get an idea for what kind of content is on the page before clicking through it.
Subheadings
Move over, bolded headlines! Subheadings are another important place to tack your SEO keywords on to. Subheadings also help search engines understand the structure of your content, which improves their ability to find relevant pages from within your site. Putting keywords in your subheadings will also help them stand out when people scroll past them and give users an idea of what they're about to read.
Meta Descriptions
Do not utilize an auto-generated meta description! This is fertile ground for planting your SEO keywords, plus it gives you an opportunity to demonstrate what your content contains to readers looking through a Google search.
Utilizing an auto-generated meta description can backfire as it can dissuade potential customers from visiting your website, as they are often unclear in representing your website's intent.
Avoid Keyword Stuffing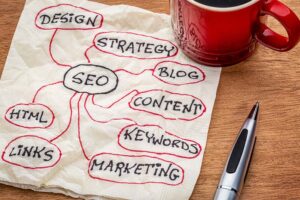 Now that you understand the importance of SEO keywords and the potential pitfalls of using them incorrectly, we have to address one of the most dangerous offenders of them all: keyword stuffing.
It's exactly what it sounds like. You may now feel eager and empowered to start throwing your SEO keywords around your content, but keyword stuffing represents a major roadblock to your SEO rankings. Why? Google will penalize you if you exceed a given percentage of SEO keywords versus original copy. A general rule of thumb is to aim for 1% to 3% of SEO keywords and not exceed any more than that. Doing so can lead to Google marking your content as spam, so try to use your keywords sparingly, but also effectively!
Use an SEO Keyword Plugin
The last thing you should do when tinkering with SEO keywords is to use an SEO keyword plugin to make sure your keywords are hitting their mark. For example, WordPress's SmartCrawl will tell you if…
You've exceeded the maximum percentage for keyword stuffing

If you've used the keywords on another post

If your keywords are used enough in the subheadings

Whether your keyword was used in the first paragraph or not
Plugins like SmartCrawl essentially compile a checklist that ultimately holds you accountable for your keyword usage — so take advantage!
ONE18MEDIA's Passion for SEO
We understand that SEO is changing at the drop of a hat and that it may be hard to keep up. Luckily, you don't have to do that. At ONE18MEDIA, we are incredibly passionate about SEO and are dedicated to helping businesses grow their online presence as a result!
If you're looking to grow your business and cut through the noise of SEO, let the experts at ONE18MEDIA help. To learn more about our services, please visit our website and get in touch with us for a FREE marketing audit today!