Reading Time:
5
minutes
So your business has finally taken the plunge with a freshly-designed website. Whether you're a startup company or a business revamping their digital presence, there are a number of things to do before launching your website. Here's what you need to do before your website goes live.
Proofread Before Launching Your Website!
Before launching your website, be sure to look through all pages of your website and proofread. Look for errors in grammar, syntax, spelling, and flow. 
Furthermore, make sure your website's copy is in line with your company/organization's message? Do your words line up with your mission statement? Do they express the values you wish you convey to your target audience? Asking yourself these questions will help ensure not only a smooth read across your website, but also a consistent message for your audience.
Ensure SEO Strategies Are Up to Par
Search Engine Optimization (SEO) is king in today's digital world. Making sure your SEO strategies are lined up is incredibly important when launching your website. 
Think of your website as a pyramid — with your homepage being at the top. You want your most important pages (aside from your homepage) to be easily found. Making sure they're one or two clicks away from the homepage ensures both a positive user experience (UX) and a higher chance of getting indexed by search engines.
You should also make sure that your website is keyword-dense with phrases related to your target audience. So if you're trying to attract customers in need of digital marketing services, you'll want to have curated content that features phrases like "grow your audience," "build your brand," and "get more customers."
Check Images, Links, and Pages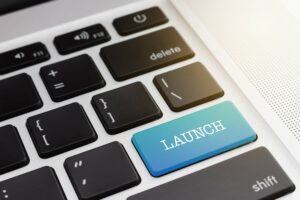 Checking images, links, and pages is another important part of launching your website. With images, you want to make sure they are compressed. Not doing so is essentially like dropping a massive weight onto your site, as uncompressed images can drastically slow down your website's performance.
For links, you'll want to ensure they're not broken and all links lead to their intended destination. Check for typos in links, too.
On top of that, are your pages loading as smoothly as possible? If not, consider removing plugins that use up valuable space on your website.
Get Your DNS Info In Order
Domain Name Servers (DNS) are composed of your website's site, IP address, and time-to-live (TTL). There are four types of DNS records you should be concerned about: A, CNAME, MX, and TXT.
In short, your A (address) record routes one IP address to a domain name, whereas a CNAME maps one domain name to another. MX (Main eXchanger) serves as a depository of mail-related inquiries for your site, while TXT stores information, as DYN states. Make sure you have these in check before launching your website.
Back Up Everything
Unless you want to lose everything, you should be backing up your website on a regular basis. In fact, it's one of the biggest things to do before launching your website — given all the hard work you and your team have put into making it a reality.
Utilize a website backup service to ensure speedy recovery shall your website go offline. Remember, you're losing money every second your website is offline, so be sure to have a backup plan in place!
Launching Your Website with ONE18MEDIA
At ONE18MEDIA, we take businesses and their online presence to the next level with our Digital Growth Engine. Our dedicated web developers and marketing team work ardently with businesses to ensure their website's launch day is a success.
To learn more about how ONE18MEDIA can help you with launching your website, please visit our website and contact us today!